Sell Structured Settlement California
Sell Structured Settlement California 800.200.4384
The Law Offices of Eugene Ahtirski, Structured Settlement Attorney, and Independent Professional Advisor. Protecting the rights and finances of Structured Sellers, with our vast experience in transfers spanning over 10 years of exclusively working in this area of law.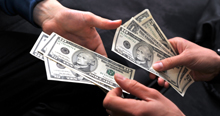 [ccf_form id="1765″]
Selling a structured Settlement does not require  you to have an attorney in the state of California, but just like in a criminal case there are laws that if you wish to have an attorney present you may do so. If you can not afford an attorney one will be appointed to you, also referred to as an Independent Professional Advisor.
The factoring companies would rather you waive your right, and take the chance of the judge not approving the first time then to spend the money California State Law says they have to pay for your lawyer.
selling a structured settlement is a mini trial with a judge ruling in your best interest, so you walk in with a 50/50 chance of approval. Judges also routinely continue or deny based on best interest of the seller.
Now having a IPA in court with you will improve your chances, of approval. But like i said the factoring company has to pay up to $1500 for your attorney, and that comes out of their profit, not your transfer.
You also have to take into consideration most factoring company sales reps, deal with 50 states and how can you realistically expect them to know what you need in your state? Like would be like expecting the president to know what the governor of each state is doing. So if you have a structured settlement attorney working with you from the start most of times they will know the judge you will be in front of before you even sign the papers and what that particular judge likes to see in a structured settlement transfer.
In our office we actually keep a running database of the judges by county and state to make sure we can have the best chances of approval before the transfer begins. But that is our job, we are sales people and sometime we have to tell sellers the hard facts. That doesn't mean we cant or wont do the transfer, just that sometimes in looking out for their best interest things may not always go the way they want. Usually the hard facts are something they can and do accept, just may differ from the sales person has said, based on his limited knowledge of the actual court process.
One common misconception is that the papers get signed and go in front of a judge for rubbing stamping. Tat is not correct, the judge has a fiduciary duty to protect the best interest of the seller. Judges take that duty very seriously, and if you do not have an attorney for yourself and are relying on the factoring company's attorney the judge may require you to go get an attorney and come back.
So if you are selling a structured settlement you may want to consider seeking the assistance of on Independent Professional Advisor, to help negotiate from the begin, it can only help the process, and get your money sooner.
Sell Structured Settlement Alameda
Sell Structured Settlement Alpine
Sell Structured Settlement Amador
Sell Structured Settlement Butte
Sell Structured Settlement Calaveras
Sell Structured Settlement Colusa
Sell Structured Settlement Contra Costa
Sell Structured Settlement Del Norte
Sell Structured Settlement El Dorado
Sell Structured Settlement Fresno
Sell Structured Settlement Glenn
Sell Structured Settlement Humboldt
Sell Structured Settlement Imperial
Sell Structured Settlement Inyo
Sell Structured Settlement Kern
Sell Structured Settlement Kings
Sell Structured Settlement Lake
Sell Structured Settlement Lassen
Sell Structured Settlement Los Angeles
Sell Structured Settlement Madera
Sell Structured Settlement Marin
Sell Structured Settlement Mariposa
Sell Structured Settlement Mendocino
Sell Structured Settlement Merced
Sell Structured Settlement Modoc
Sell Structured Settlement Mono
Sell Structured Settlement Monterey
Sell Structured Settlement Napa
Sell Structured Settlement Nevada
Sell Structured Settlement Orange
Sell Structured Settlement Placer
Sell Structured Settlement Plumas
Sell Structured Settlement Riverside
Sell Structured Settlement Sacramento
Sell Structured Settlement San Benito
Sell Structured Settlement San Bernardino
Sell Structured Settlement San Diego
Sell Structured Settlement San Francisco
Sell Structured Settlement San Joaquin
Sell Structured Settlement San Luis Obispo
Sell Structured Settlement San Mateo
Sell Structured Settlement Santa Barbara
Sell Structured Settlement Santa Clara
Sell Structured Settlement Santa Cruz
Sell Structured Settlement Shasta
Sell Structured Settlement Sierra
Sell Structured Settlement Siskiyou
Sell Structured Settlement Solano
Sell Structured Settlement Sonoma
Sell Structured Settlement Stanislaus
Sell Structured Settlement Sutter
Sell Structured Settlement Tehama
Sell Structured Settlement Trinity
Sell Structured Settlement Tulare
Sell Structured Settlement Tuolumne
Sell Structured Settlement Ventura
Sell Structured Settlement Yolo
Sell Structured Settlement Yuba
Find your county and click on it to be taken to a form to request an IPA review, all reviews and consultations are free to California residents.
Don't let getting cash now be your driving force, make educated financial decisions based on facts not sales pitches.
Eugene Ahtirski Law is a full service law firm focused to practice as a Structured Settlement Attorney, Representing clients Selling Structured Settlements, Transferring Structured Settlements, and Buying Structured Settlements.
Is one of the leading names in the transfers of Structured Settlements, and has personally seen and represented thousands of these cases through the legal system as a Structured Settlement Attorney. If you are considering buying, selling, or transferring a structured settlement, annuity payments, insurance payments, lottery payments, or other future payments and are seeking advice from industry-leading professionals, you've come to the right place. We are Nationally Recognized Independent Professional Experts Advisors in all ares of Structured Settlement Transfers, and Secondary Market Annuities.
People decide to sell future payments to a structured settlement annuity buyer or buyer of future payments for many different reasons. Some plaintiffs decide to settle out of court with a structured settlement, always intending to sell their payments for a big, cash payment. Plaintiffs who always intend to sell their settlements differ from those who agree to a structured settlement to replace lost income and who later sell part of their settlement to meet sudden financial demands.
When You Sell a Structured Settlement You Are Parting With a Source
of Future Income
You should take great care to ensure the buyer's offer sufficiently replaces the funds from your settlement. Take your time before making a sale. Compare the offers of several companies. Comparing multiple offers is the best way to determine whether you are receiving a good offer.
EUGENE A. AHTIRSKI, ESQ
14622 Victory Boulevard, Second Floor, Van Nuys, California 91411
Tel. (818) 786-2176; Toll Free: (800) 200-4384; Fax. (800) 513-4LAW
SATELLITE OFFICES: Throughout California
Associate Attorney's: Throughout the United States
Email: EAhtirski@gmail.com
Office: Ahtirskilaw@gmail.com
An IPA is an independent professional adviser who is separate from the factoring company that is buying a structured settlement from an individual. They are simply to write or sign a opinion letter stating that they have reviewed the transfer of the structured settlement and that it is fair and in the best interest of the seller.
Some factoring companies have a list of attorneys that will sign off on their deals, other companies will direct you to the internet to find one. Some courts will accept the seller waving his/ her rights to independent professional advise.
Ultimately it is the sellers who are responsible for looking out for their best interest, and insuring they are getting a fair deal, and the transactions are in their best interest.
The courts will try to look out for the best interest of both parties but sometimes they miss things that either get transfers approved that shouldn't be, or transfers denied that should be approved. A well written IPA letter can protect you from this. If the professional writing the letter is well versed in the transfer of structured settlements.
Typically when selling a structured settlement it is important to seek independent professional advice.
Legal Benefits for the Structued Settlement Industry since Legislation in 2002
Before 2002, only the first issue of a structured settlement was recognized and defined by the IRS and Congress.  The aftermarket (where someone wants to sell their future payment rights for a lump sum of money)  for these structured settlements existed, but not with protection from our government.
Not only were consumers getting ripped off, but companies trying to buy these annuities were getting ripped off and investors in these companies were getting ripped off.  Now, since 2002, the Structured Settlement Industry has expanded to include the aftermarket for structured settlements (factoring transactions) as well as structured settlements.  "Structured Settlement" and "Structured Settlement Factoring Transaction" are now both defined in the Internal Revenue Code.
There are more structured settlement product opportunities since 2002.  In the past, the traditional structured settlement industry was slow to respond with product improvements and education.  They were slow to meet the needs of the customer trying to sell:  greater flexibility to meet unanticipated future costs.
Now, the Industry can receive a tax break to design a sale of improved structured settlement products.  There is mandated education for people of companies that are trying to sell a product (the structured settlement rights) whose payment rights are assignable under federal and state law.  And, areas that historically were most used to rip off a consumer, now require close attention by the Courts.
So, any pending litigation will need to be reconsidered.  A company wishing to buy structured settlement payment rights will have to do it in another way.