Blog
Transfers of Structured Settlement Payment Rights
Block 16.1  Article 2.3 Transfers of Structured Settlement Payment Rights
Law Requiring Service On the Attorney General of all Transfer Documents:  Introducing CA Insurance Code 10139(a)
This task is the responsibility of the transfer company, and if it isn't done, the transfer will not go through.  The filing to the Attorney General takes place at the same time the transfer company files the petition to the Superior Court.
You can visit this website:  http://oag.ca.gov/services-info-3 and view the Attorney General's law on receiving documents of transfers from Superior Courts.  Just scroll down the opening page of the above URL until you see options of page numbers 1,2, and 3.  Go to page "3".  Scan half-way down page 3, and you'll see:
"Insurance Code § 10139(a) – Requires companies buying structured settlements to supply various documents to the Attorney General's office, including court approval of transfer of structured settlement payments rights."
For the record, the Attorney General oversees business in the Insurance Code, the Probate Code, the Health and Safety Code, Public Resources Code, Civil Code, Business and Professions Code, and matters regarding Bankruptcy and more.  We are not the only industry that reports to the Attorney General.
Below is the California Insurance law that states the reporting to the Attorney General.  The documents that the Attorney General needs are in bold.
California Insurance Code 10139 Filings With Attorney General
10139(a) states: "At the time of filing a petition pursuant to Section 10139.5 for court approval, the transferee shall file with the Attorney General a copy of the transferee's petition for approval, a copy of the written disclosure statement required by subdivision (a) of Section 10136, a copy of the annuity contract, any qualified assignment agreement, the underlying structured settlement agreement, or any order or approval of any court or responsible administrative authority authorizing or approving the structured settlement, and a copy and proof of notice to the interested parties, and a verified statement from the transferee stating that all of the conditions set forth in Sections 10136, 10137, and 10138 have been met.
See our "The List" for Office of Attorney General for Structured Settlement Transfers article for a quick reference guide.
http://preissuedannuityadvisor.com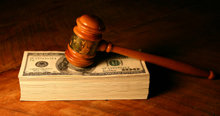 Comments
There are no comments yet.