Blog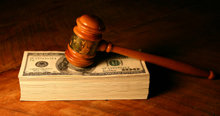 The way the court process works for selling your structured settlement
The way the court process works for selling your structured settlement is like this:  Once we have done your declaration, then I prepare the petition and send it to the court for filing and a hearing date.  The court will sent your hearing date about 25 to 30 days out from the time of filing.  Upon opening our file, the court will give you a case number and assign us to a department/Judge.  This could take 1 week to 2 weeks depending on the court clerks.  Some courts in larger counties are under staffed and have back log on opening cases which results in a longer wait to get a case number and Judge assignment.   Other courts, usually in smaller counties, have the documents processed within 3 days.  It just depends.  Once we have a case number and a department, then we can set the hearing date.  Every courtroom/ Judge has it own calendar and its own way of doing things.  Some courtrooms like me to call them to set the hearing date and in other courtrooms the Judge will do the setting of the date.  Either way the hearing is going to be at least 25 days out from the date it is set.  The reason for this is that the structured settlement statute requires a 20 notice period in most states.  Plus we add on 5 days for mailing.  The "notice period" is the amount of time required to allow anyone who is an interested party such as the annuity issuer or annuity owner (insurance companies) to respond the Notice of Hearing.  The Notice of Hearing is, of course, the document that goes out in the mail to all interested parties to notify them of the hearing date.
We have noticed recently in some of the courts in the larger counties that the court room calendar is overloaded and they are not able to set a date 25 days out.  In that case we need to take the first date that is available.  This can be a month and half to two months out.  Sad to say, but it is not uncommon to get a hearing date 2 months out.  Luckily this is not the norm.  The norm is usually 1 month out.. pretty standard.  only twice in my 6 years of processing transfer of structured settlements (selling of annuities) have a had a hearing date be set out more than two months and that is usually in very rural parts of the country where they have rotating judges.  A rotating Judge is a Judge who services several counties.  so one day a month he will hear civil cases in one county.  if that date is booked up, you will have to wait until the next month.
Comments
There are no comments yet.